Our students staged a UN General Assembly at the end of October together, with 12 other schools from Switzerland, China, Turkey, Greece, Sweden, France, and Germany. The three-day MUN conference at our campus in Zugerberg addressed the Geneva refugee issue to manage migration in a globalized world. The participants acted as delegates who advocated for the interests of the countries assigned to them.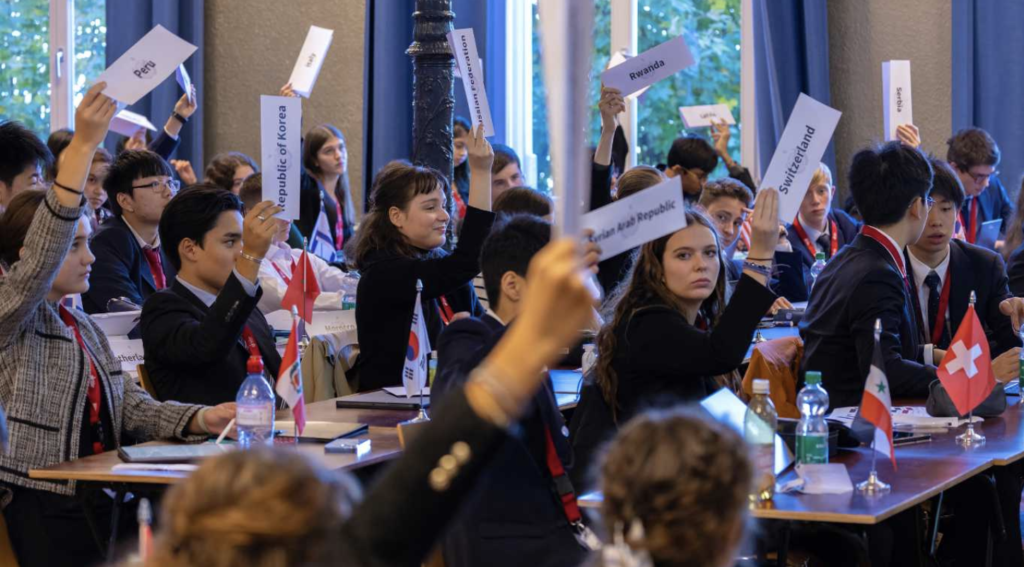 07 November 2023
The MUN conference stands for "Model United Nations" and is held in our school's own auditorium. From Friday to Sunday, 27 to 29 October, 20 of our students came together with 80 other young people from Switzerland, China, Turkey, Greece, Sweden, France, and Germany.


Empowering the Youth
The fact that our students hold an annual Model UN conference at our campus has become a tradition and an important event. The school emphasizes humanitarian orientation and its international roots. Our students and participants experience firsthand how the UN works, what significance it has for different nations around the world, and how it works for humanity and its sustainable development.
Our committed students
At our campus, the conference is organized by our students, led by their teacher and MUN director Paul-Johan Widen, and held in our campus' auditorium. The structures of the conference are modeled on the UN.
Special guest speakers
This year, we also had the honour to have guest speakers: Ms. Laura Dittli, a member of the Cantonal Council of Zug, as well as Ms. Barbara Dätwyler-Scheuer, and Mr. Alexander Widmer, from the Swiss Agency for Development and Cooperation.
The resolution
At the end of the conference, an important resolution was passed. It includes the tightening of global border policy with stricter measures, the use of intelligence, technology sharing, and trained personnel, to prevent irregular entry. Despite the challenges, the conference ended on an optimistic note, recognizing the commitment, collaboration, and valuable solutions proposed by the delegates.
The event has attracted media interest. Check out the article here.
Watch some videos from the conference:
Director's speech
Secretariat's speech
Ukraine delegates' special speech